"Don't just buy a hearing aid, HearWell™!"
According to Consumer Reports, the single most important factor in determining a successful hearing aid fitting is the professional programming of it, not the hearing aid. In today's world of technology there are hundreds of choices in hearing aid technology. Our doctors will help you choose your technology based on your needs, program it for your specific hearing loss, and coach you on listening tasks designed to optimize your listening experience. Our HearWell™ program will ensure that you get the most out of your investment in hearing health.
We use the latest in technology and offer solutions to meet any budget. No single manufacturer can meet the needs of every patient. Our audiologists understand and dispense hearing technology products from SIX different manufacturers: Widex, Signia, Oticon, Phonak, GN ReSound, and Unitron. The audiologist will determine which product is right for you after learning about your needs and communication style.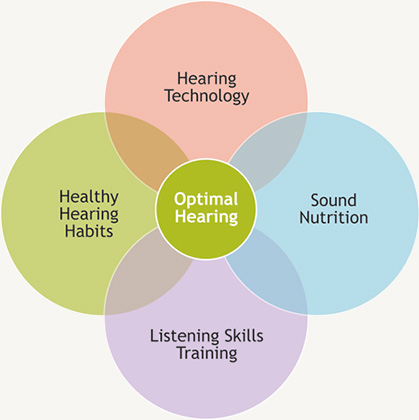 Every hearing device purchase is backed with the three part HearWell™ Program
Part One: Technology Protection
75 Day Trial Period
3 year Repair Warranty
3 year Loss and Damage Protection
100 Batteries and enrollment in our Discount Battery Program
Same day on-site lab repairs
Loaner devices while you wait for off-site lab repairs
Part Two: Technology Performance Verification
Hearing prescriptions are verified using a Real Ear measurement technique to ensure a precise fitting.
Two to three follow-up fitting appointments during the trial period are encouraged to ensure you are adapting to the new technology.
Maintenance appointments on six month intervals throughout the warranty period to ensure optimal performance.
Prescription verification annually to ensure the technology is meeting your needs.
Part Three: HearWell™ Coaching
A holistic approach to hearing healthcare. Our program provides each patient with coaching on how to support better hearing through healthy hearing habits, sound nutrition, and listening skills training as a supplement to the technology.
Group and individual hearing health coaching, looking at the overall communication and health needs of each individual.
LACE (Listening and Communication Enhancement)—Individualized computer program done at home designed to optimize listening skills in challenging environments.
Why wait? You don't have to live with hearing loss.