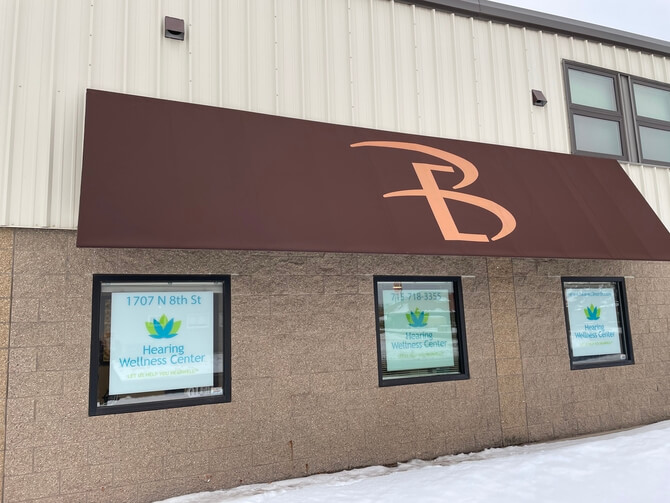 With the start of the new year Hearing Wellness Center has opened our fifth location in the Northland. We proudly serve patients in Duluth, Cloquet, Bemidji, Grand Rapids and we are excited to now be part of the vibrant community of Superior, Wisconsin! You will find us in the Bachand electric building located at 1707 North Eighth Street in Suite 1. Look for the large brown awnings with the letter "B" for Bachand. The Superior clinic is staffed five days a week by a trained technician available for cleanings and repairs in our on-site repair lab. An audiologist is on-site two days per week. The clinic is open daily from 9 AM – 4:30 PM, closing for a "Wellness Hour" at noon each day.
Hearing Wellness Center has had the pleasure of working with Northern Wisconsin patients for many years. When a conveniently located space opened this past fall, co-owners Dr. Sara K. Downs and Dr. Jonathan P. Gervais jumped at the opportunity to bring healthy hearing closer to home for their Northern Wisconsin patients.
Opening a location in Superior has been part of the plan for Downs and Gervais since they first opened their Duluth, Minnesota practice in 2012. Downs and Gervais have over four decades of combined audiology experience in the area. Tina Posch joined Hearing Wellness Center as an audiologist in the spring of 2020. Tina has over three decades of audiology experience herself and was most recently with Essentia Health. Dr. Downs, Dr. Gervais, and Tina Posch have all practiced in Superior on a part-time basis at one time or another during their careers and really enjoyed being in Superior. Before the opening of the Superior Hearing Wellness Center, the area did not have access to a full-time audiology practice and hearing aid repair lab. There were several visiting providers but none that had a full-time location. This left patients with little choice but to cross the bridge to Duluth for hearing health services. Hearing Wellness Center is happy to be filling that need by bringing hearing health care to Northern Wisconsin.
Industrial audiology services is an area that Dr. Gervais hopes to expand. The new Superior location will provide easier access to industrial employees to come in for annual hearing conservation testing. We know that when hearing protection and conservation services are provided at the beginning of a career the result is a more positive outcome for hearing health at the time of a person's retirement. Keeping, and even improving, their quality of life for all the years in between. Hearing protection technology has come a long way and the Hearing Wellness Center is at the forefront of what is available in the world of hearing conservation. We have partnered with AXIL Performance – a new company providing hearing protection for hunters and industry professionals.
Our audiologists are Community Care Providers for the Veterans Administration. Veterans who have authorization can be seen in any of our five locations. Having a presence in Northern Wisconsin provides greater ease of access for our veterans to get the hearing health care they need and deserve.
To schedule your appointment at our Superior location please call the office at 715-718-3355. Let us help you HearWell™ in Northern Wisconsin!